Saisonpause - Bis zum nächsten Jahr!
Die Schifffahrt am Ossiachersee ist für heuer beendet. Wir bedanken uns bei allen Gästen und Partnern für eine tolle Saison 2021 und freuen uns darauf, Sie im kommenden Jahr wieder an Bord begrüßen zu dürfen. 
Sobald die neuen Fahrpläne feststehen finden Sie diese hier. 
Wenn Sie eine Gruppe anmelden möchten können Sie uns gern schon jetzt unter office@schifffahrt.at kontaktieren. Teilen Sie uns Wunschdatum und Teilnehmerzahl sowie Abfahrtsstation Ihrer Wahl mit und wir melden uns bei Ihnen, sobald wir die für das Datum gültigen Abfahrtzeiten fixiert haben. 
When are the departures on the Ossiacher Lake
The timetable changes per season. Click on the period relevant to you to see the timetable that is valid during your stay. 
Please note that due to the CoVid pandemic, changes in the timetable may occur at any time. Therefore the timetables you find here can differ from the printed catalogue.
The ones you find here are the latest and therefore valid timetables!
We thank you for your understanding and look forward to welcoming you aboard. 
Corona measures: The regulations for public transportation apply:
Zum Zustieg ist eine FFP-2-Maske zu tragen. Am Oberdeck sowie im Innenbereich bei Tisch zur Konsumation kann diese abgelegt werden. 

No registration, negative test result or confirmation of vaccination required. Drinks and snack can be ordered as usual. 
Whether you're arriving from Villach, Klagenfurt or Feldkirch: With 9 ship stations around the lake you'll always find one easy to reach for you to explore the lake with by ship.
Find the departure times for the station of your choice in the timetable of the Ossiacher Lake Navigation.
The addresses of the ship stations as well as informations about parking are listed unter Shipstations for you.
If need be, you can filter the timetable through the search function to see only departures from your particular station of choice. 
Please note, that the last time indicated for each station is only the arrival. To make a roundtrip and arrive back where you started, please choose an earlier departure. If you're unsure, just drop us an e-mail or call us and we'll help you find a suitable departure.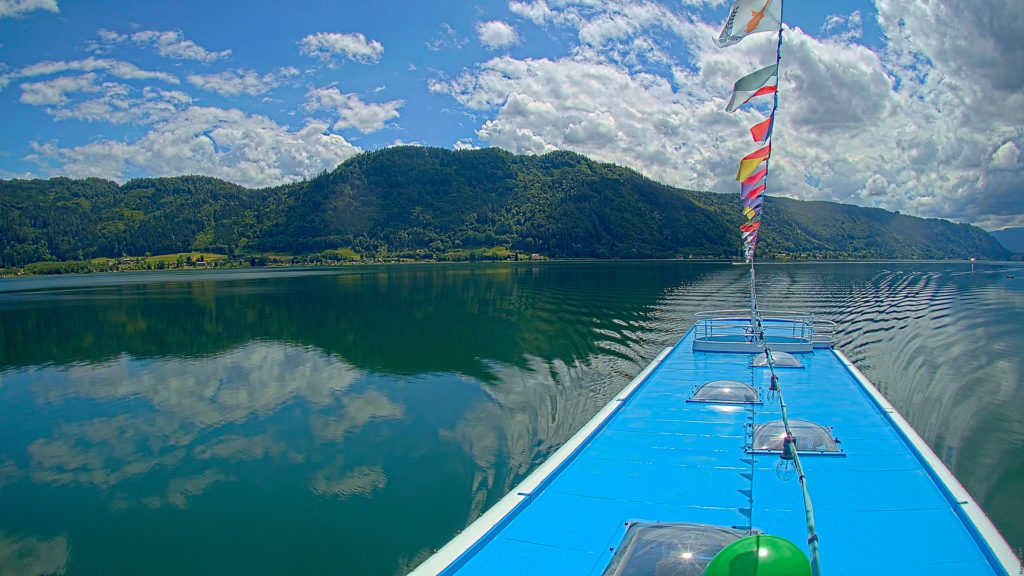 We're not liable for course cancellations or delays.
We try to inform you here as well as via our social media channels about changes in the timetable as well as course cancellations. So check back before you start your trip!