The Ships
of Oss
Navigation on Lake Ossiach
The Nageler family and their crew are looking forward to your visit!
Krimi Fest Kärnten
Live an Bord
Vincent Kliesch liest auf den Wellen des Ossiachersees
Mit Lesungen bekannter Krimi Autoren begeistert das Kärntner Krimifest heuer auch am Ossiachersee:
Am 31. Oktober, passend zu Halloween, liest Vincent Kliesch aus seinem jüngsten Roman.
Dazu serviert die Crew als Halloween Special "Süßes und Saures".
Lassen Sie sich diese Rundfahrt der besonderen Art nicht entgehen.
Abfahrt: Landskron 14:30 Uhr; Dauer ca. 2 Stunden
Tickets online erhältlich.
Dr. Südbahn goes Ossiachersee
Am 28. August war es so weit: Dr. Südbahn LIVE erstmals am Ossiachersee und wie immer komplett ausverkauft.
Wir danken für beste Stimmung und Musik und hoffen auf ein baldiges Wiedersehen an Bord!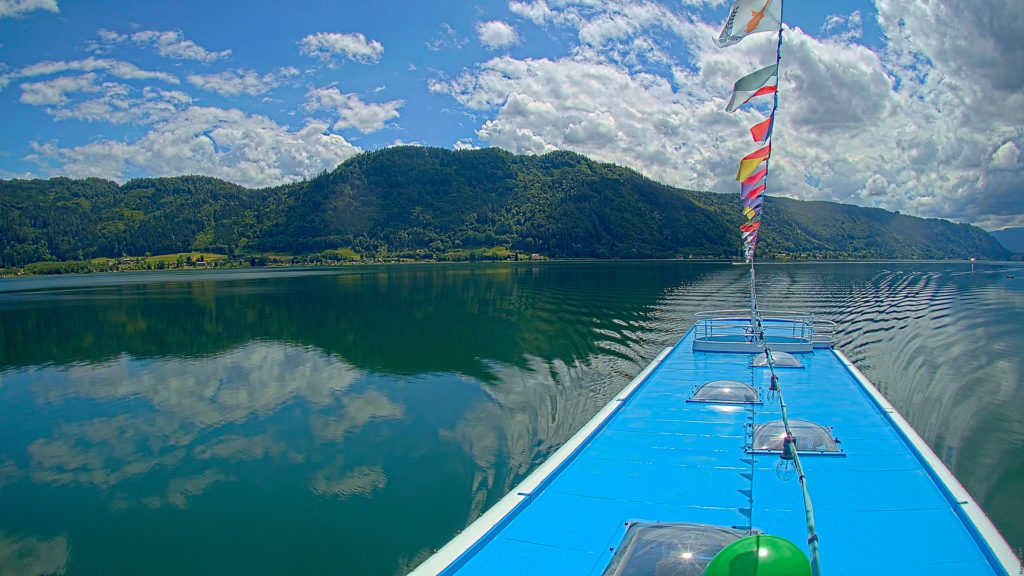 Welcome to the Ossiacher Lake
Explore the lake with the most destinations in carinthia with the Ships of Oss
The unique panorama of the Ossiacher Lake invites you to relax and enjoy, while the crew creates delicious ice cream cups, coffee and more for you.
With the ships you can reach 14 destinations around the lake: From sports to culture and nature experiences, there's something for every taste. Leave your car behind to plan your daytrips stressfree and without parking issues by hopping onto our ships.
Our crew is looking forward to welcoming you aboard!
Find current information and beautiful pictures from the navigation on lake Ossiach on our social media channels (german):